A kitchen has to be functional above all, and it can't be if it's stuck in the past decade! Here are some tips for refreshing with utility.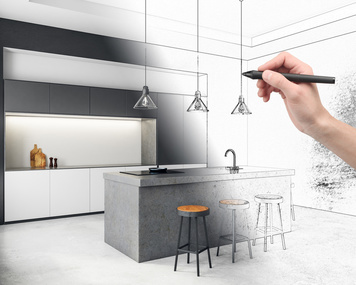 Paint your kitchen cabinets and replace the handles.
Add a kitchen island; it's great for prep work, and with added cabinets, it can accommodate cookbooks and dishware. Adding a few stools can create a place to eat or work.
Upgrade your appliances — opt for ENERGY STAR-certified ones to save money.
Install a dining table with a combination of benches and chairs to use all available corner space.
Buy some statement countertops to provide décor and function in one.
If you update your floors, go for a classy wood or tile.
Dedicate a space for kids' study so they can be close by but still concentrated on their work.
For a modern rustic look, change to a sliding barn-style door.
Update for storage
Nothing in a kitchen is in higher demand than storage. If you think creatively, you'll find space anywhere!
Consider an "appliance garage" to hide away your toaster and blender when they are not in use.
Use open shelving carefully — it can be great for accessing daily dishware, but make sure it doesn't become too cluttered; the Tupperware collection is better behind closed doors.
Open up the kitchen with some glass-front cabinetry.
Pullout drawers keep things convenient yet hidden, especially spices or trash cans.
Specific cabinetry designed for one purpose, such as holding wine glasses, can be useful and dramatic.
Store rarely used items above the refrigerator.
Enjoy your space
Add a personal touch to your kitchen with unique items such as glass bottles, artwork or jar planters for herbs. Little things add up to a personal style.
Add a backsplash! It's affordable and creates interest in plain walls.
Install lighting in useful places, such as above the sink or over the kitchen island. One dramatic piece can draw the eye, so position it accordingly.
Spice up your average range hood by making it oversized or colorful.
Choose a kitchen island in a color that pops for a statement — it's easily painted over if you hate it later.
Adopt some farmhouse style with marble countertops and a farmhouse sink.
Go for the professional look with overhead racks to store your pots and utensils.
Add window treatments for a bit of extra beauty — aim for ones that can be machine washed.
Remodeling the kitchen provides a myriad of opportunities to bring out your personal style, so don't be afraid to take a chance. After all, you're the head chef!